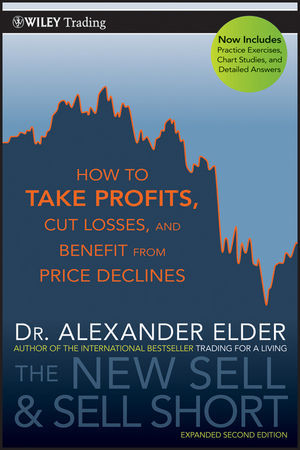 The New Sell and Sell Short (2nd Edition)
by Alexander Elder
The New Sell and Sell Short - How To Take Profits, Cut Losses, and Benefit From Price Declines - 2nd Edition by Alexander Elder

A detailed look at one of the most underestimated aspects of trading-selling 
In
The New Sell and Sell Short, Second Edition,
Dr. Alexander Elder explains how to exit a stock at the right time and how to initiate a short position to profit from a stock that is showing weakness. Often overlooked, selling properly enables a trader to cut losses and maximize profits. Moreover, short selling in a weak market can generate big profits and should be a part of every trader's arsenal of tools. The new edition contains numerous examples of short selling stocks from the 2008-2009 bear market, demonstrating very clearly why traders do themselves a disservice by only focusing on the long side. In addition, the new edition contains an extensive study guide to help readers master the material prior to trading.
Elder shares real-world examples that show how to manage your positions by adjusting your exit points as a trade unfolds.
Contains new examples and insights from the 2008-2009 market meltdown
Includes an extensive study guide with 115 questions and answers and 17 chart studies
Discusses the selling process from a variety of angles: technical, fundamental, and psychological
Explains how to maximize winnings in a profitable trade and how to minimize losses when a trade doesn't go as planned
Offers detailed guidance for traders of stocks, financial futures, commodities, and currencies
Explains how to set profit targets and stop-loss orders prior to entering any trade Other bestselling titles by Elder: Trading for a Living, Come Into My Trading Room, and Entries and Exits
Understanding where and when to sell is essential to successful trading. The New Sell and Sell Short, Second Edition is the definitive reference to this overlooked, but vitally important, aspect of trading. 
Paperback: 349 pages

Publisher: Wiley; 2nd Edition (March 2011)
ISBN-13: 978-0470632390
Availability: In Stock - Usually ships the next business day.