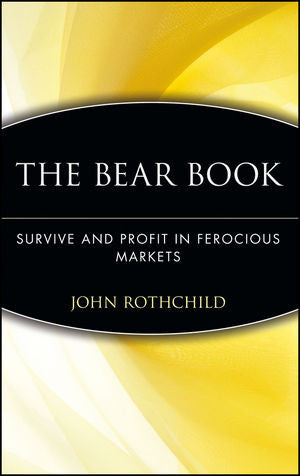 The Bear Book
by John Rothchild
The Bear Book by John Rothchild 
"Rothchild finds some compelling evidence that a Bear might be lurking in the woods. [He] addresses the subject with candor."-The Wall Street Journal
"In a timely antidote to the fever now raging in the markets, Rothchild's new book dishes a long dive when investors least expect it." -Washington Post Book World
April 14, 2000. The Dow drops over 600 points. Investors the world over receive a startling reminder that "what goes up, must come down." Today's exceptionally volatile markets exemplify the hair-raising financial instability that most analysts see as a continuing trend. More than ever before, investors deserve a sound explanation of how to profit-or minimize loss-in such a climate, and be prepared for the inevitable dips. In Survive and Profit in Ferocious Markets, bestselling financial writer John Rothchild provides a rare understanding of profit making when the markets are tenuous, with volatility at every turn. Here is specific, comprehensive, and timely information on:
* Where the economy is going and how exactly to invest in it
* How investors can negotiate the awkward terrain between the new and old economies
* Investment strategies at different stages of a volatile market
* The psychology of investing, a history of the markets, and biographies of prominent investors, including Roy Neuberger and Philip Carret
With wit, wisdom, and a penchant for telling a good story, Rothchild provides all investors, from novices to pros, with the tools to protect their investments and prosper.
Hardcover: 284 pages 
Publisher: Wiley (April 1998) 
ISBN-13: 978-0471197188 
Availability: In Stock - Usually ships the next business day.