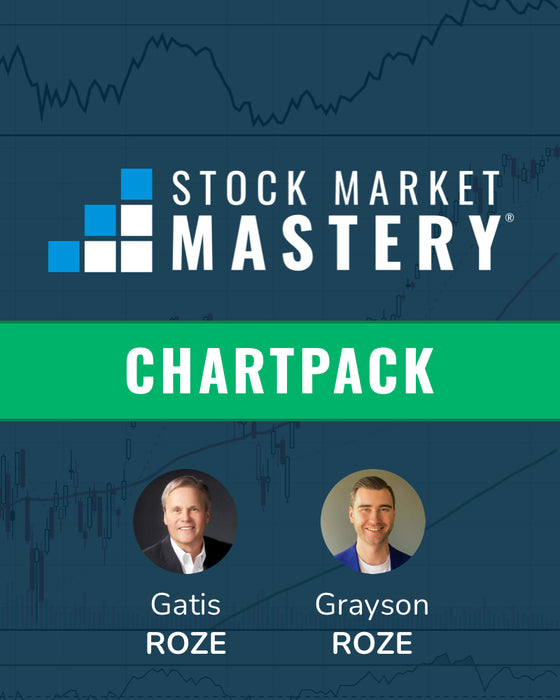 Stock Market Mastery ChartPack by Gatis and Grayson Roze
by Gatis Roze and Grayson Roze
Master the markets and streamline your investing routines with
this comprehensive ChartList framework designed by renowned
traders Gatis and Grayson Roze
To beat the markets, you need a system. A strategy. A structure. That's exactly what you get with the Stock Market Mastery ChartPack. Based on the very same charts, lists and organized investing routines used by Gatis and Grayson Roze, this ChartPack captures the massiveness of the markets and boils it all down to a curated collection of essential ChartLists.
Built around the time-tested investing roadmap from their book, "Tensile Trading: The 10 Essential Stages of Stock Market Mastery", Gatis and Grayson Roze have designed the Stock Market Mastery ChartPack with one mission in mind – to make it easy for you to follow your routines, stay focused on the key charts that matter most, and make objective, disciplined decisions throughout your investing process.
The Stock Market Mastery ChartPack brings you a structured group of more than 75 ChartLists, all pre-populated with expertly designed charts and a carefully-crafted organization. This complete package will instantly add value for any StockCharts user, filling in your account with an expansive array of charts, symbols, data and ChartLists. Use it all as-is or draw inspiration from the framework and customize to create your own unique ChartList structure.
The lists included in the ChartPack will help you:
• Review the major equity indexes across multiple timeframes, starting from the top and working your way down through all corners of the market
• Visualize trend from multiple perspectives and gain insights into breadth, sentiment and volatility
• Work through the cap tiers, see how the battle between growth and value is unfolding, and determine whether investors are favoring offense or defense
• Pinpoint the strongest sectors and compare equal-weight vs. cap-weight variants in new ways
• Chart the most important global indexes, country funds, and other asset classes like bonds, commodities, currencies and cryptos
• Dig into the charts for specific index members, like the Dow Industrials, S&P 500, NASDAQ 100 and more
Plus, with a set of unique placeholder lists and helpful samples to get you started, you'll be able to make the Stock Market Mastery framework your own and fill in with the stocks, ETFs, and other securities of your own.
A NOTE FROM GATIS
"Most money managers and traders hesitate to share their approach. Some will speak in generalities about their methodology, but it's rare to find an open book. With this ChartPack, Grayson and I flipping the script. We're putting our accounts on display and giving you all of the lists we've relied on for years. These are the charts we can't live without, the lists we've poured countless hours into, and the organization that helps us stay ahead of the market in all environments. As it has done for us, this comprehensive collection of ChartLists will become your magical workhorse. Your market monitoring and portfolio management efforts will benefit immediately, and the structured approach will give you the confidence to act on what you're seeing in the markets. Simply put, our Stock Market Mastery ChartPack will increase your ability as an investor to make profitable, high-probability trades."
WHAT USERS ARE SAYING
"The organization and clarity had an immediate positive impact on my investing." - D. Cassey
"What a great value. Simply sensational." - L. Phillips
"Now that I use it, I realize it would have taken me years to get here - if ever." - T. Tang
"I wish I had this 10 years ago." - N. Levin
"Amazing! I see it first in the ChartPack charts and then eventually I read about it in the press." - E. Sherman
"It doubled my market insights in half the time." - H. Nussman
"With the quarterly updates, it just keeps getting better and better." - J. Jong
ABOUT GATIS
Gatis Roze is a veteran full-time stock market investor who has traded his own account since 1989 unburdened by the distraction of clients. He holds an MBA from the Stanford Graduate School of Business, is a Chartered Market Technician (CMT) and is a past president of the Technical Securities Analysts Association (TSAA). Gatis is also the author of "Tensile Trading: The 10 Essential Stages of Stock Market Mastery" (Wiley, 2016). After several successful entrepreneurial ventures, the last a high-tech Silicon Valley company which was taken public on the NASDAQ, he retired in his early 40s to focus on investing in the financial markets. With consistent success as a stock market trader, he began teaching investments at the post-college level in 2000 and continues to do so today. A renowned communicator, he has taught thousands of investors in sold-out seminars for the American Association of Individual Investors (AAII), the Market Technicians Association (MTA) and elsewhere. He also writes the popular blog, The Traders Journal, which is published on StockCharts.com and has achieved a global following.
ABOUT GRAYSON
Grayson Roze is the author of "Trading for Dummies" (Wiley, 2017) and "Tensile Trading: The 10 Essential Stages of Stock Market Mastery" (Wiley, 2016). He is also the Vice President of Operations at StockCharts.com and the co-founder of Stock Market Mastery, which provides proven investment education to individuals through a variety of mediums, including live courses, books and DVDs (visit StockMarketMastery.com to learn more). Grayson speaks regularly at various investment seminars throughout the country, including to organizations such as the American Association of Individual Investors (AAII) and the Chartered Market Technicians Association. Grayson holds a Bachelor's degree from Swarthmore College, where he studied Economics and Psychology.
SAMPLE CHARTS
Important Notes:  
Includes one year of FREE updates.
Please make sure to use your StockCharts User ID as your email address for this order. In order to purchase this ChartPack, you must be a current StockCharts.com subscriber with an Extra or PRO membership. (ChartPacks cannot be installed on Basic accounts.)
ChartPack Fulfillment:
After you place your order, we will confirm your payment, add your ChartPack to your account and send you an email letting you know that your ChartPack is installed.  During normal week day business hours, that process usually takes less than 2 hours however after normal business hours ( USA WEST COAST TIME ZONE) it will take longer .  Thank you for your understanding & patience. It will be worth the short wait.  ChartPacks are non-returnable and non-refundable.