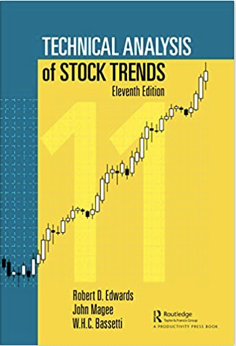 Technical Analysis of Stock trends (11th Edition)
by Robert D. Edwards,John Magee,W.H.C. Bassetti
This revised and updated version of the best-selling book, Technical Analysis of Stock Trends, 10th Edition, presents proven long- and short-term stock trend analysis enabling investors to make smart, profitable trading decisions. The book covers technical theory such as The Dow Theory, reversal patterns, consolidation formations, trends and channels, technical analysis of commodity charts, and advances in investment technology. The book also includes a comprehensive guide to trading tactics from long and short goals, stock selection, charting, low and high risk, trend recognition tools, balancing and diversifying the stock portfolio, application of capital, and risk management. This sharpened and updated new edition offers patterns and charts that are tighter and more illustrative, including modifiable charts. Expanded material will be offered on Pragmatic Portfolio Theory as a more elegant alternative to Modern Portfolio Theory; and a newer, simpler, and more powerful alternative to Dow Theory is presented.

Hardcover: 685 pages

Publisher:  CRC Press; 11th edition (July 2018)
ISBN-13: 978-1138069411
Availability: In Stock - Usually ships the next business day.