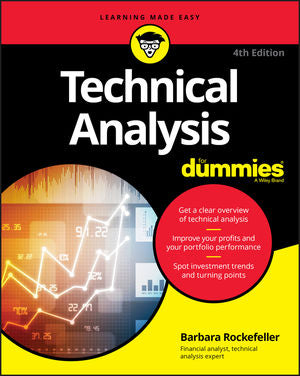 Technical Analysis For Dummies (4th Edition)
by Barbara Rockefeller
Grasp and apply the basic principles of technical analysis
Savvy traders know that the best way to maximize return is to interpret real-world market information for themselves rather than relying solely on the predictions of professional analysts. This straightforward guide shows you how to put this into profitable action—from basic principles and useful formulas to current theories on market trends and behavioral economics—to make the most lucrative decisions for your portfolio.
The latest edition of Technical Analysis for Dummies includes a brand-new chapter on making the right decisions in a bull or bear market, an updated look at unique formulas and key indicators, as well as refreshed and practical examples that reflect today today's financial atmosphere.
Become an expert in spotting market trends and key indicators
Get the skinny on the latest research on behavioral economics
Take a deep dive into how to read market sentiment and make it work for you
Get a look at the first innovation in charting for decades—straight from Japan
With comprehensive coverage from charting basics to the cutting edge, Technical Analysis for Dummies includes everything you need to the make informed independent market decisions that will maximize your profits. Happy trading! 
Paperback: 384 pages

Publisher: For Dummies; 4th Edition (October 2019))
Availability: In Stock - Usually ships the next business day.