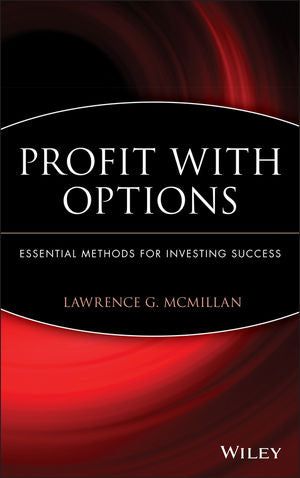 Profit With Options
by Lawrence G. McMillan
Profit With Options: Essential Methods for Investing Success 
A comprehensive guide for beginners by the leading authority on options
Whether the markets are moving up or down, options remain one of the most attractive instruments for all investors. Profit with Options is a beginner's guide to trading options, delivered in clear and engaging manner by options guru Lawrence McMillan. Starting with a basic explanation of terminology, McMillan explains complete trading methodologies with chapters on direct and contrary indicators, protecting a stock portfolio, and trading volatility. The "Q&A" section in each chapter offers readers a chance to test their knowledge in real life trading situations. Whether you are looking for new investment sources in a bear market or seeking hedge protection in a bull, Profit with Options is a lively, one-stop reference and vital tool.
Hardcover: 276 pages

Publisher: Wiley; 1st Edition (May 2002)
ISBN-13: 978-0471225317
Availability: In Stock - Usually ships the next business day.