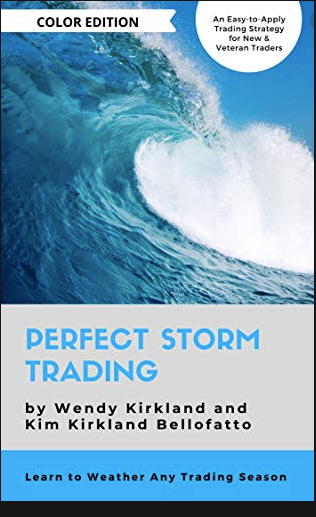 Perfect Storm Trading (Color Edition)
by Wendy Kirkland
Perfect Storm Trading (Color Edition)by Wendy Kirkland and Kim Kirkland Bellofatto
Learn to Weather Any Trading Season 
 Are you ready for a change? Do you dream of a life of financial independence? You are not alone. Around the world people are looking for ways to supplement or replace their income. In this follow-up to the hugely popular Exploring Your Options, Wendy shares her Perfect Storm option trading strategy, which has been refined from more than ten years in option trading, working with option traders around the world. Wendy is best known for explaining how to trade options in easy-to-understand language with step-by-step examples that makes her strategies great for new or veteran traders. The Perfect Storm strategy looks at specific conditions for an equity that can result in powerful moves that benefit an option trader. In addition to clearly outlining this new option trading strategy, throughout the book Wendy also shares the philosophy that governs her professional life and explaining how you can change your own thinking in a way that brings abundance in all its forms and makes every step of the journey richer and more joyful. Kim's experience as an educator and writer helps to take the difficult concepts of option trading and break it down into easy-to-grasp nuggets with numerous annotated charts and examples. From Wendy - "My gift to you and others who are interested in earning money through option trading is the years I have spent cutting away the needless details that are designed to discourage and confuse the everyday trader and to share only the important aspects needed to achieve trading success."
Paperback: 201 Pages

Publisher: Independently Published; Annotated Edition (September 2020)

ISBN-13: 979-8676063078

Availability: In Stock - Usually ships the next business day.