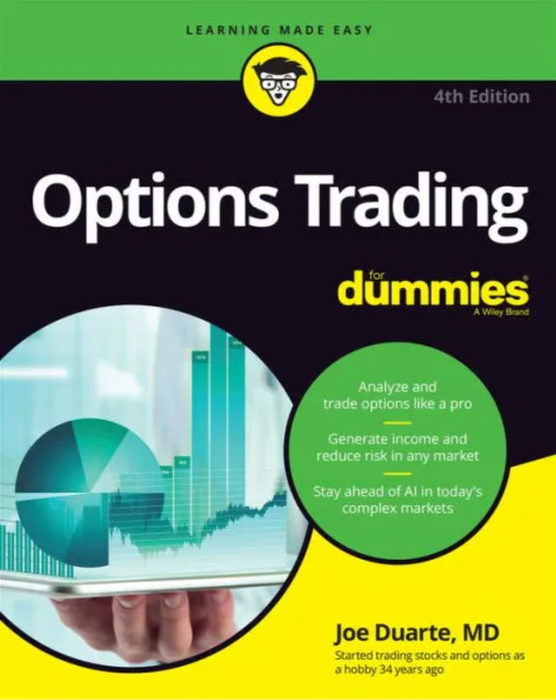 Options Trading For Dummies
by Joe Duarte
Options Trading For Dummies by Joe Duarte

When it comes to boosting your portfolio, you've got options! 
Looking for a new way to flex your investing muscle? Look no further!  Options Trading For Dummies offers trusted guidance for anyone ready to jump into the versatile, rewarding world of stock options. And just what are your options options? This book breaks down the most common types of options contracts, helping you select the right strategy for your needs. Learn all about the risk-reward structure of options trading and reduce your risk through smart mixing and matching.  
Today's markets are more topsy turvy than ever before, but there is also more potential for everyday investors like you to profit, regardless of economic conditions. Options are great for broadening your retirement portfolio or earning a little extra scratch through shorter-term positions.  Options Trading For Dummies is your plain-English resource for learning how! 
Demystify the world of options contracts and how to trade them, including index, equity, and ETF options 

Use technical analysis to create a solid trading strategy that limits your risk 

Protect your assets and avoid the pitfalls common to first-time options traders 

Learn about covered calls, butterfly positions, and other techniques that can enhance your gains 
Thinking of trading options, but not sure where to start? This latest edition of Options Trading For Dummies provides you with step-by-step advice for boosting your income under today's market conditions. 


Pages: 416 pages
ISBN-13 : 978-1119828303
Publisher: For Dummies; 4th edition (September 2021)
Availability: In Stock - Usually ships the next business day.