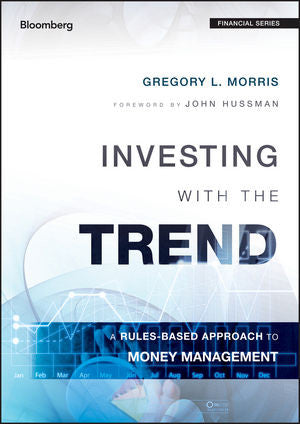 Investing with the Trend
by Gregory L. Morris
Investing with the Trend provides an abundance of evidence for adapting a rules-based approach to investing by offering something most avoid, and that is to answer the "why" one would do it this way.  It explains the need to try to participate in the good markets and avoid the bad markets, with cash being considered an asset class.  The book is in three primary sections and tries to leave no stone unturned in offering almost 40 years of experience in the markets.

Part I – The focus is on much of the misinformation in modern finance, the inappropriate use of Gaussian statistics, the faulty assumptions with Modern Portfolio Theory, and a host of other examples.  The author attempts to explain each and offer justification for his often strong opinions. 
Part II – After a lead chapter on the merits of technical analysis, the author offers detailed research into trend analysis, showing how to identify if a market is trending or not and how to measure it.  Further research involves the concept of Drawdown, which the author adamantly states is a better measure of investor risk than the oft used and terribly wrong use of volatility as determined by standard deviation. 
Part III – This is where he puts it all together and shows the reader all of the steps and details on how to create a rules-based trend following investment strategy.  A solid disciplined strategy consists of three parts, a measure of what the market is actually doing, a set of rules and guidelines to tell you how to invest based upon that measurement, and the discipline to follow the strategy. 
In this must-have resource, author Gregory Morris—Chairman of the Investment Committee for Stadion Money Management—draws on his years of experience to offer a process for analyzing the present state of the marketplace in order to maximize investment possibilities. Throughout the book, Morris presents compelling evidence that debunks commonly held investing myths that typically hold investors back. Filled with practical examples, and based on solid research and data, Investing with the Trend explains why all too often well-accepted theories on finance, economics, and the market in general can keep investors from reaching their investing goals. Morris's approach, which he skillfully implemented while Stadion's Chief Technical Analyst, is designed to help investors capture most of the market's good times while avoiding the bad. To get started with the process, Morris outlines four essential indicator types and defines the most common investing terms. In clear language, he describes this rules-based technical approach to investing that consistently outperforms market averages. Engaging and informative, Investing with the Trend offers an insider's view of how to evaluate the market through a variety of technical indicators. As Morris explains, each indicator is assigned a weight based on its history as a driver of returns. To maximize investment potential, Morris advises that investors adjust their portfolio exposure from cash and fully invest in response to the aggregate value of the indicators. This method has consistently provided better returns than a buy-and-hold approach and without taking on extra risk. In contrast with modern investment theory, which equates risk with volatility, Morris equates risk with portfolio drawdown—a distinction that is the foundation of his entire investing approach. As the title implies, this important book reveals that markets tend toward trendiness and that technical analysis, when properly used, can measure the trend of the market at any point in time. Sure to be any investor's key to financial success and backed by the author's investment performance, Investing with the Trend provides an innovative way to use technical analysis to minimize risk and outperform market averages.  
Praise for Investing with the Trend  
"If you want to take a master class in financial markets, this is the book for you."
—Mebane Faber, CIO, Cambria Funds

"Greg Morris is a learned scholar, sharp observer, rational thinker, and successful stock market analyst and investor. All these characteristics are displayed in his new book Investing with the Trend. It is a gem. His understanding and refutation of many Wall Street myths are brilliant; his evaluation of stock market indicators is well-reasoned; and his investment style and risk avoidance methods superb. Anyone, professional or otherwise, interested in a reasoned, fact-supported, comprehensive book on the stock market should own it."
—Charles D. Kirkpatrick, Kirkpatrick & Company, Inc.

"Anyone wanting to read about technical analysis should read this book first. It is the benchmark book that all other books on the topic should be compared to."
—Peter Mauthe, Investment Banking

"If you invest in stocks without first investing in this book, you are a fool. Well written, documented, and practical, Greg's work is an amazing accomplishment, combining knowledge with wisdom. In my library of thousands of market books, there are only a few 'must reads'. This one has earned that honor."
—Larry Williams, Trader

"The trend is your friend, so make friends with Investing with the Trend. Whether you are emotional or disciplined, a numbers nerd or not, Greg will show you how successful investors let the rules rule."
—Sam Stovall, Chief Equity Strategist, S&P Capital IQ
Hardcover: 480 pages

Publisher: Wiley (December 2013) 
ISBN-13: 978-1118508374
Availability: In Stock - Usually ships the next business day.