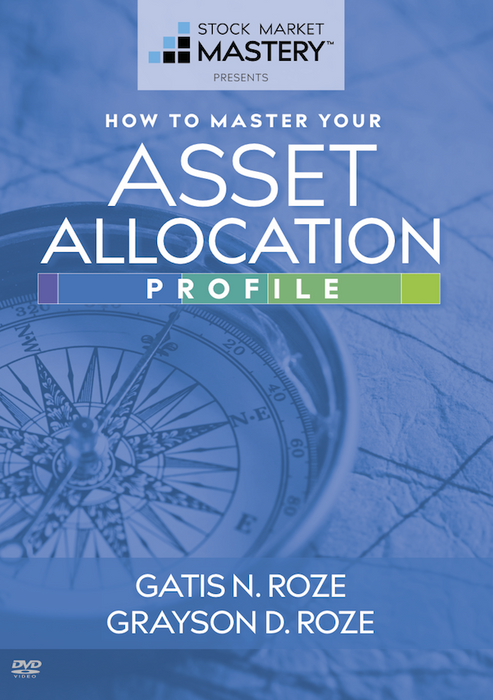 How to Master Your Asset Allocation Profile - 2 Disc Set
by Gatis Roze and Grayson Roze
Craft Your Own Asset Allocation Profile and Master the Market with Gatis and Grayson Roze
Academic studies have proven that over 90% of our performance as investors is determined by our asset allocation choices. This high- leverage seminar presents transformative investment guidance. It explains the routines and tools necessary to construct your best possible personal portfolio of diversified asset classes to achieve superior long-term returns through all types of business cycles. It teaches you how to match your personality, financial goals, and investing style to an appropriate asset allocated portfolio. Learn the prime strategies for building a diversified and properly correlated portfolio that maximizes returns while minimizing costs and risk exposure.
Learn how to create your personalized asset allocation profile from a diversified array of 59 specific asset classes
Compare your profile to professional asset allocation profiles and Ivy League university endowments
Learn how to calculate correlations between your asset baskets
Learn how to adjust your asset allocation profile to reflect your personal risk tolerance and goals
Learn in detail how to apply the "Core & Explore" strategy and achieve "niche dominance" using EFTs, mutual funds, and equities
Discover explicit ways to minimize your fees, costs, and taxes
Learn how to optimize your re-balancing using "seasonality"
What Attendees Said About the Live Seminar:  
This is perhaps the best Investment Seminar I have ever taken!   J. Peterson

Wonderful advice. Everything Gatis & Grayson talked about in the seminar I found personally useful.   T. Joyner  
I've been a passive Investor for 30 years. This Seminar convinced me of the wisdom to focus on Asset Allocation & become more proactive.   M. Manning 
Sample Slides Typical of the Over 100 Slides in the Seminar 

About Gatis Roze:
 A veteran full-time stock market investor who has traded his own account since 1989 unburdened by the distraction of clients. He holds an MBA from the Stanford Graduate School of Business, is a Chartered Market Technician (CMT) and is a past president of the Technical Securities Analysts Association (TSAA). After several successful entrepreneurial ventures, he retired in his early 40s to focus on investing in the financial markets. With consistent success as a stock market trader, he began teaching investments at the post-college level in 2000 and continues to do so today. A renowned communicator, he has taught thousands of investors in sold-out seminars for the American Association of Individual Investors (AAII), the Market Technicians Association (MTA), Bellevue College and StockCharts University. He also writes the popular blog, The Traders Journal, which has a global following and appears weekly at StockCharts.com.
About Grayson Roze:
Grayson is the author of "Trading for Dummies" (Wiley, 2017) and "Tensile Trading: The 10 Essential Stages of Stock Market Mastery" (Wiley, 2016). He currently serves as Vice President of Operations at StockCharts.com, an industry-leading financial technology company that has provided innovative, award-winning financial charting and analysis tools to online retail investors since 1999. Grayson also speaks regularly at investment conferences, seminars and other events throughout the country, including to organizations such as the American Association of Individual Investors (AAII) and the CMT Association. At a young age, Grayson began pursuing his interest in the financial markets by attending investment classes and starting to trade under the guidance of his father. An active investor for nearly a decade since the age of just 18, Grayson has since become an accomplished trader, respected analyst and sought-after speaker. Grayson holds a Bachelor's degree from Swarthmore College, where he studied Economics and Psychology.

ADDITIONAL NOTES:
ALL International orders for this item are shipped via First-Class Mail International Parcel (delivers in 14-21 business days - depending on destination).  Please select the US Priority Mail shipping method during checkout. 
Format: DVD Video
Availability: In Stock - Usually ships the next business day. 
Release Date: 2016