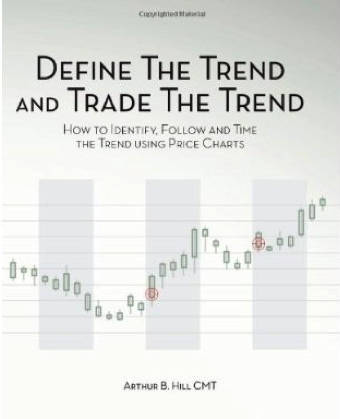 Define the Trend and Trade the Trend
by Arthur B. Hill
Define the Trend and Trade the Trend: How to Identify, Follow and Time the Trend using Price Charts

by
Arthur B. Hill  
Define the Trend and Trade the Trend shows how basic chart analysis can be used to generate buy and sell signals for stocks and other financial instruments. 
Geared towards beginner and intermediate chartists, this book puts theory into action with real-world examples. Chart reading is visually oriented because prices form recognizable patterns over time. These patterns can be used to determine the overall trend, estimate the depth of a correction and identify reversal points. 
Arthur Hill starts with the basics of trend identification and then describes the major bullish and bearish reversal patterns in detail. Once the trend is established, this book shows readers how to identify bullish and bearish continuation patterns, which are crucial to trading in the direction of the bigger trend. 
The final section shows readers how to estimate retracements and use candlestick reversal patterns to identify low-risk entry points. By the end of this book, readers will know how to estimate reward potential and define risk. 
Armed with this knowledge, chartists can compute the reward-to-risk ratio and determine if the reward is worth the risk. Packed with over 100 real-world examples, this book will serve as your reference for trading these key patterns.  
NOTE:
ALL International orders for this item are shipped via First-Class Mail International Parcel (delivers in 14-21 business days - depending on destination).  Please select the US Priority Mail shipping method during checkout.  
Paperback: 200 pages   
Publisher: CreateSpace Independent Publishing Platform (November 5, 2012)
ISBN-13: 978-1467949248