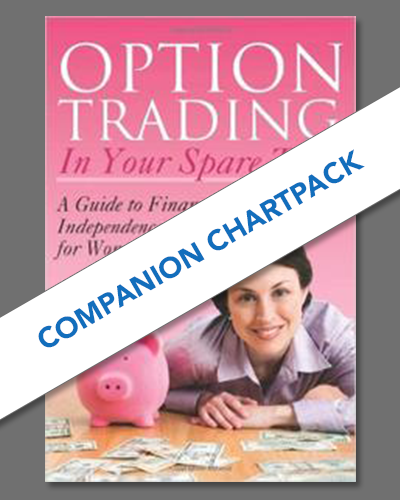 Companion ChartPack for Wendy Kirkland's "Option Trading in Your Spare Time"
by Wendy Kirkland
The Companion ChartPack for Wendy Kirkland & Virginia McCullough's book "Option Trading in Your Spare Time" lets you see the authors charts in full color, exactly how they were designed.  These are live versions of the charts from the book with all of the chart settings available for you to study, update, copy and use for your own analysis.  Now StockCharts.com members can get all of the charts in this wonderful book added to their account quickly and easily by buying this Companion ChartPack.
This ChartPack includes 50 of the charts from the book with the exact settings that were used to create them.  
Because these are live charts, not just snapshots, once the ChartPack is installed, you will be able to:
See exactly how the charts were created and which settings were used
Review each chart on your computer screen
Print out each chart for later study
Enlarge any of the charts for more detailed analysis
Add your own annotations to the charts
Change the start and/or end dates of the charts
Change any chart's ticker symbols in order to use the authors settings on different stocks, etc.
and much more!
Here's an snapshot of one of the charts in this ChartPack:
Important Notes:
THIS IS A CHARTPACK YOU ARE PURCHASING AND NOT A BOOK.  CLICK HERE TO LEARN ABOUT CHARTPACKS. 
In order to purchase this ChartPack, you need to have already purchased the book, Option Trading in Your Spare Time, AND you must be a current StockCharts.com subscriber with an Extra or PRO membership.  (ChartPacks cannot be installed into Basic accounts.)
Please make sure to use your StockCharts User ID as your email address for this order.
ChartPack Fulfillment:
After you place your order, we will confirm your payment, add your ChartPack to your account and send you an email letting you know that your ChartPack is installed.  During business hours, that process usually takes less than 60 minutes however after business hours it may take several hours.  Thank you for your patience. ChartPacks are non-returnable and non-refundable.