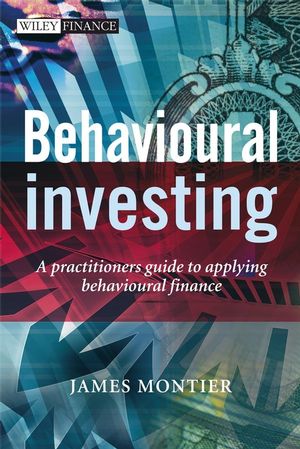 Behavioural Investing
by James Montier
Behavioural Investing: A Practitioner's Guide to Applying Behavioural Finance 
Behavioural investing seeks to bridge the gap between psychology and investing. All too many investors are unaware of the mental pitfalls that await them. Even once we are aware of our biases, we must recognise that knowledge does not equal behaviour. The solution lies is designing and adopting an investment process that is at least partially robust to behavioural decision-making errors.
Behavioural Investing: A Practitioner's Guide to Applying Behavioural Finance explores the biases we face, the way in which they show up in the investment process, and urges readers to adopt an empirically based sceptical approach to investing. This book is unique in combining insights from the field of applied psychology with a through understanding of the investment problem. The content is practitioner focused throughout and will be essential reading for any investment professional looking to improve their investing behaviour to maximise returns. Key features include: 
The only book to cover the applications of behavioural finance
An executive summary for every chapter with key points highlighted at the chapter start
Information on the key behavioural biases of professional investors, including The seven sins of fund management, Investment myth busting, and The Tao of investing
Practical examples showing how using a psychologically inspired model can improve on standard, common practice valuation tools
Written by an internationally renowned expert in the field of behavioural finance 
Hardcover: 728 pages

Publisher: Wiley (October 2009) 
ISBN-13: 978-0470687796
Availability: In Stock - Usually ships the next business day.