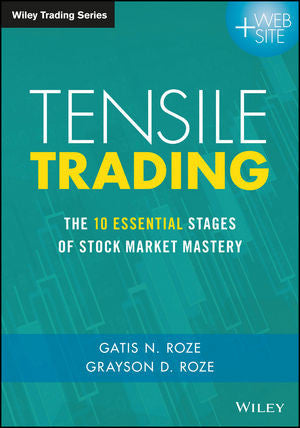 Tensile Trading: The 10 Essential Stages of Stock Market Mastery
by Gatis Roze and Grayson Roze
Tensile Trading: The 10 Essential Stages of Stock Market Mastery provides a complete, step-by-step roadmap for investors of all levels, and coaches them on how best to organize the routines and strategies necessary to identify the market's strongest trading opportunities. History is proof that true mastery of the market begins with basic money management protocols, asset protection policies, and organized analysis techniques. With these crucial foundations in place, you can embrace a proven investment methodology, execute an effective trading plan, and develop a reliable system for profitable investing. Consistent, long-run investing success is a result of well-defined goals, carefully-constructed routines and an accurate understanding of the psychological challenges that all investors face.

Set yourself up for success by implementing prudent money management and asset protection strategies
Build a personalized Asset Allocation Profile—your own personalized investment methodology
Construct a properly diversified portfolio using tools and techniques tailored for the modern market
Learn to take control of your "Investor Self," limiting the impact of mental hurdles and emotional baggage
Supercharge your financial analysis by employing proven routines and strategies
A clear and proven approach easily tailored to fit your specific investing style, Tensile Trading distills the vastness of the financial markets into ten essential stages. It is designed to provide a comprehensive structure to your financial management efforts—helping you make smarter investment decisions, trade more efficiently, and consistently earn greater returns.
PRAISE FOR TENSILE TRADING
"No base is left uncovered by the 10-stage Tensile Trading approach. It effectively lays out a comprehensive, easy-to-follow methodology that promotes stable, balanced, high-probability investing. A refreshingly-honest and engaging book brimming with practical investing wisdom that will leave you inspired to take action and confident in your ability to succeed in the stock market."
John Murphy

, author of 

Technical Analysis of the Financial Markets

 and 

Trading with Intermarket Analysis

; Chief Technical Analyst, StockCharts.com; former technical analyst, CNBC



"It is rare to find a book that presents such a thorough and authentic look into the strategies, routines and processes of a successful individual investor. It is clear that the
Tensile Trading
methodology has been shaped by many years of real-world investing experience, the lessons of which shine brightly through the pages of this powerful book."
Dr. Henry Pruden, Professor of Business Administration and Executive Director, Institute of Technical Market Analysis, Golden Gate University; former editor, Market Technicians Association Journal
"Gatis and Grayson have penned a very thoughtful and personal approach to investing in the stock market. As you read this, you will hear a voice of experience. The book is broken into stages for you to go through to accelerate your own development of investing skills and to avoid learning things the hard way. A nice touch is a bullet point style summary of the important points of each chapter called Key Takeaways. This is the kind of book you will read more than once."
Thom Hartle

, Director of Product Trading, CQG, Inc.; former editor,

Stocks & Commodities Magazine
"I have been investing for many years, but it was not until I studied under Gatis Roze and learned the Tensile Trading concepts that I became truly knowledgeable about how to succeed as an individual investor. Tensile Trading has helped me to gain clarity of thought, become well organized and better understand my Investor Self . This is an insightful book that investors should read closely and then review on a regular basis. It is an invaluable resource."
Roger Shantz

, individual investor; former mechanical engineer and naval aviator
ABOUT THE AUTHORS
Gatis N. Roze is a veteran full-time stock market investor who has traded his own account since 1989 unburdened by the distraction of clients. He holds an MBA from the Stanford Graduate School of Business, is a Chartered Market Technician (CMT) and is a past president of the Technical Securities Analysts Association (TSAA). After several successful entrepreneurial ventures, he retired in his early 40s to focus on investing in the financial markets. With consistent success as a stock market trader, he began teaching investments at the post-college level in 2000 and continues to do so today. A renowned communicator, he has taught thousands of investors in sold-out seminars for the American Association of Individual Investors (AAII), the Market Technicians Association (MTA), Bellevue College and StockCharts University. He also writes the popular blog, The Traders Journal, which has a global following and appears weekly at StockCharts.com.
Grayson D. Roze is the Vice President of Operations at StockCharts.com, an industry-leading financial technology company that has provided innovative, award-winning financial charting and analysis tools to online retail investors since 1999. He is also the author of "Trading for Dummies" (Wiley, 2017) and the co-founder of Stock Market Mastery. Grayson also speaks regularly at investment conferences, seminars and other events throughout the country, including to organizations such as the American Association of Individual Investors (AAII) and the CMT Association. At a young age, Grayson began pursuing his interest in the financial markets by attending investment classes and starting to trade under the guidance of his father. An active investor for nearly a decade since the age of just 18, Grayson has since become an accomplished trader, respected analyst and sought-after speaker. Grayson holds a Bachelor's degree from Swarthmore College, where he studied Economics and Psychology.
Hardcover: 
208 pages 
Publisher: Wiley; 1st Edition (April 2016)
ISBN-13: 978-1119224334
Availability: In Stock - Usually ships the next business day.