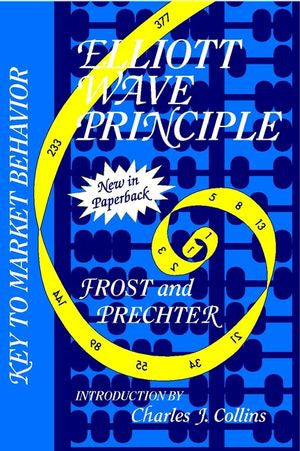 The Elliott Wave Principle
by Robert Prechter
The Elliott Wave Principle: Key to Market Behavior by Robert Prechter 
Highly acclaimed basic handbook of Elliott Wave Theory which has come to be regarded as a definitve work in this area. Thoroughly covers all the relative concepts. Fibonacci Numbers, wave analysis, time sequence, cyclic analysis, etc. One of the most fascinating books on market forecasting you'll ever read. 
This is a definitive, excellent book on Elliott, and I recommend it to all who have an interest in the Wave Principle." Richard Russell, Dow Theory Letters

"Gold and Silver Today wholeheartedly endorses this book. It is the definitive work on a scientific wave theory of human experience. If you are interested in technical or wave analysis, it should be required reading." Gold & Silver Today

"This book is extremely well done. It is clear, brief and bold....by far the most useful and comprehensive for both the beginner and the veteran." William Dilanni, Wellington Mgmt. Co.

"An outstanding job...I don't think a better basic handbook of Elliott Wave theory could be written." Donald J. Hoppe, Business and Investment Analysis

"...A top-drawer reference for serious technical analysts....all the nuts and bolts necessary to do their own Elliott Wave assembly." Futures Magazine

"Chapter Three is the best description of Fibonacci numbers we've seen in print and that alone is worth the price of the book." Janes Dines, The Dines Letter

"In a third of a lifetime in this business, this was the first time I really understood Elliott, and this is certainly the first book on Elliott that I could recommend. All the methods that Prechter has used so successfully are fully described in this book." The Professional Investor

"Elliott Wave Principle is such an important, fascinating, even mind-bending work, we are convinced that it should be read by and and every serious student of the market, be they fundamentalist or technician, dealing in stocks, bonds or commodities." Market Decisions

"Even allowing for minor stumbles, that 1978 prediction must go down as the most remarkable stick market prediction of all time." James W. Cowan, Monitor Money Review
Recipient of the Technical Analysis Association's Award of Excellence
Table of Contents

Part 1: Elliott Theory Chapter One: The Broad Concept including, *Basic Tenets *Terminology and Labeling * Impulse Waves and Variations *Corrective Waves *Zigzags * Flats * Triangles * Double and Triple Threes * Diagonal Triangle Type 2

Chapter Two: Associated Rules and Guidelines * Counting Rules * Alternation * Depth of Corrective Waves * Wave Equality * Charting the Waves * Channeling * Volume * The Right Look * Wave Personality * Learning the Basics * Applying the Basics

Chapter Three: Historical and Mathematical Background of the Wave Principle * Leonardo Fibonacci da Pisa * the Fibonacci Sequence * The Golden Section * The Golden Rectangle * The Golden Spiral * The Meaning of Phi

Part Two: Elliott Applied Chapter Four: Ratio Analysis and Fibonacci Time Sequences *Ratio Analysis * Time Sequences * Benner's theory

Chapter Five: Long Term Waves and an Up-to-Date Composite * The Millennium Wave from the Dark Ages * The Grand Supercycle from 1789 * The Supercycle from 1932

Chapter Six: Stocks and Commodities *Individual Stocks * Commodities * Gold

Chapter Seven: Other Approaches to the Stock Market and Their Relationship to the Wave Principle * Dow Theory * The Kondratieff Wave Cycle * Cycles * News * Random Walk theory * Technical Analysis * Economic Analysis

Chapter Eight: Elliott Speaks * The Next Ten Years * Nature's Law 
NOTE:
ALL International orders for this item are shipped via First-Class Mail International Parcel (delivers in 14-21 business days - depending on destination).  Please select the US Priority Mail shipping method during checkout.  
Paperback: 244 pages 
Publisher: Wiley (February 2001)

ISBN13: 978-0471988496 
Availability: In Stock - Usually ships the next business day.