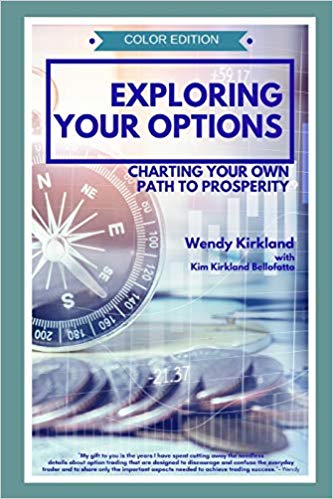 Exploring Your Options
by Wendy Kirkland
Exploring Your Options: Charting Your Own Path to Prosperity (Color Edition) by Wendy  Kirkland 
** COLOR EDITION for readers who prefer the benefit of colored charts and diagrams. Are you familiar with the monetary frustration of knowing you can do better but feel tethered to exactly where you are? Many highly creative, intelligent, and productive individuals are familiar with the feeling of consistently falling short each month, which is even more frustrating because they know the lack of money is below their own expectations and potential. This book explains how to begin a career in option trading in easy-to-understand language with step-by-step examples that makes it great for the beginner or someone who has experience trading, but who is looking to build his or her skills. It is primarily focused on trading online and tells you what you need to know to better your chances of being successful. Wendy's positive outlook and insight into the mindset of a successful option trader are based on her own experience and her personal beliefs about how to bring abundance into your life. Kim's experience as an educator helps to take the difficult concepts of option trading and break it down into easy-to-grasp nuggets with numerous annotated charts and examples. From Wendy - "My gift to you and others who are interested in earning money through option trading is the years I have spent cutting away the needless details that are designed to discourage and confuse the everyday trader and to share only the important aspects needed to achieve trading success."
StockCharts.com Members!  You can now also have live versions of all 31 of the charts in this book added to your StockCharts.com account by adding the Companion ChartPack to your order.  Click here for more details.
Paperback: 147 pages

Publisher: Independently published (February 2019)
ISBN-13: 978-1796769920
Availability: In Stock - Usually ships the next business day.