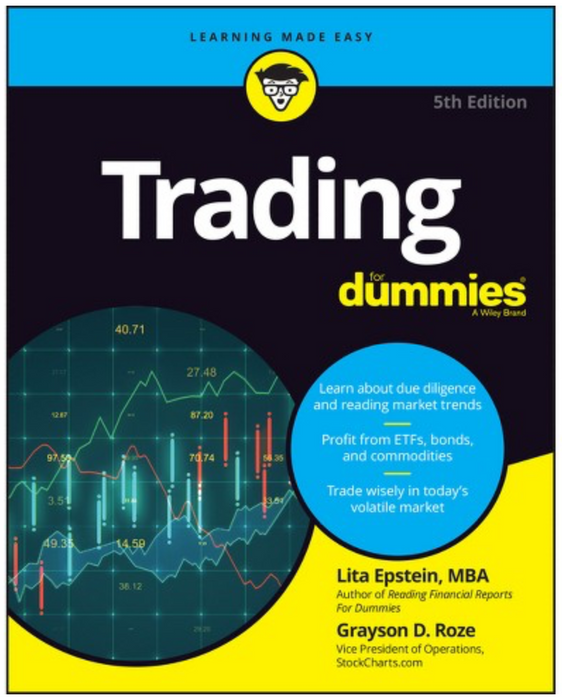 Trading For Dummies (5th Edition)
by Grayson Roze and Lita Epstein
NEW RELEASE! 
Learn more about technical analysis and trading strategies from StockCharts' very own

Grayson Roze

! The latest edition of "Trading For Dummies" is packed full of tips, tricks and charting ideas that will help you maximize the tools and features on StockCharts.com. Become a better trader and a sharper chartist today!
Become a savvy trader and make money in both up and down markets
These days, the market is volatile, and you need to know how to ride the waves and navigate the changing tides. Trading For Dummies is for investors in search of a clear guide to trading stocks in any type of market. Inside, you'll get sample stock charts, position trading tips and techniques, and fresh ways to analyze trends and indicators. Learn how to make smart decisions by identifying the stocks, bonds, funds, and commodities that will net you the maximum gain. Assume more risk, reap more benefits, build a more aggressive portfolio, and enjoy the greater gains that come with short- and medium-term trading methods.
Learn about due diligence, key indicator analysis, and reading market trends

Trade successfully in downward market trends and during recessions

Use the latest tools to create your own charts and make smart decisions

Profit from ETFs, bonds, and commodities, along with good old-fashioned stocks
This is a perfect Dummies guide for experienced and novice traders and investors seeking the most-up-to-date information on trading wisely in any market.
The easy way to make money in any market
Trading stocks is an art and a science, and Trading For Dummies can teach you both―in simple language. You can't see into the future (yet), but this book can help you learn how to predict what's coming, with a simple-to-understand primer on getting started with stock trading, performing fundamental and technical analysis, and developing a money-making system that works with your personal risk tolerance and trading style. Want to delve into derivatives, foreign exchanges, and other exotic realms? This book has you covered.
Inside…
Explore stock markets, exchanges, and brokerages

Understand fundamentals and analyst price targets

Read charts and trends to make smarter buy and sell decisions

Learn basic money management

Profit from calculated risks
A note from Grayson:
"If you're diving into the markets, you need a helpful resource that will guide you through the noise and equip you with the knowledge you need to succeed.  Fortunately, "Trading For Dummies" is the perfect place to start, packed full of easy-to-follow information that will help you build the right trading system. Plus, you'll learn a ton about how the charts and tools you see on StockCharts.com can fit into and enhance your approach!"
About the Authors
Grayson D. Roze is the Vice President of Operations at StockCharts.com. He is the author of "Tensile Trading: The 10 Essential Stages of Stock Market Mastery" (Wiley, 2016) and the 4th edition of "Trading for Dummies" (Wiley, 2017), as well as the co-founder of Stock Market Mastery (visit StockMarketMastery.com to learn more). He speaks regularly at various investment seminars throughout the country, including to organizations such as the MoneyShow, the American Association of Individual Investors (AAII) and the CMT Association. Grayson holds a bachelor's degree from Swarthmore College, where he studied Economics and Psychology.
Lita Epstein, MBA, has authored more than 40 books, including Reading Financial Reports For Dummies and Bookkeeping For Dummies.
Paperback: 400 pages

Publisher: For Dummies; 5th Edition (March 2023)

ISBN-13: 978-1394161485

Availability: In Stock - Usually ships the next business day.