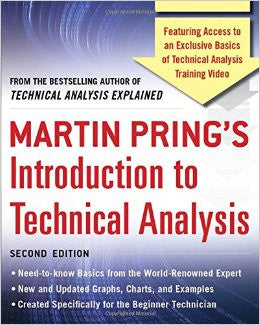 Introduction to Technical Analysis (2nd Edition)
by Martin Pring
Introduction to Technical Analysis (2nd Edition) by Martin Pring
This new edition of Introduction to Technical Analysis explains how to evaluate trends, highs, lows, price/column relationships, price patterns, moving averages, and momentum indicators for a contemporary audience, using fully new, updated charts, diagrams, and examples.
Pring uses his trademark expertise and engaging writing style to simplify concepts for traders. Links to an exclusive downloadable video featuring original content and in-depth explanations of the material is also included.
You'll learn how to:
Research and construct instantly valuable charts of stock and market activity
Interpret the basic concepts of momentum, and apply the theory to actual trades through a common sense set of trading strategies
Use price and volume pattern to identify breakouts
Analyze and act on peaks and troughs that can signal a change in the prevailing trend
Calculate moving averages and gauge their impact.
NOTE:
ALL International orders for this item are shipped via First-Class Mail International Parcel (delivers in 14-21 business days - depending on destination).  Please select the US Priority Mail shipping method during checkout. 
Paperback: 309 pages 
Publisher: McGraw-Hill; 2nd Edition (March 2015)
ISBN-13: 978-0071849371