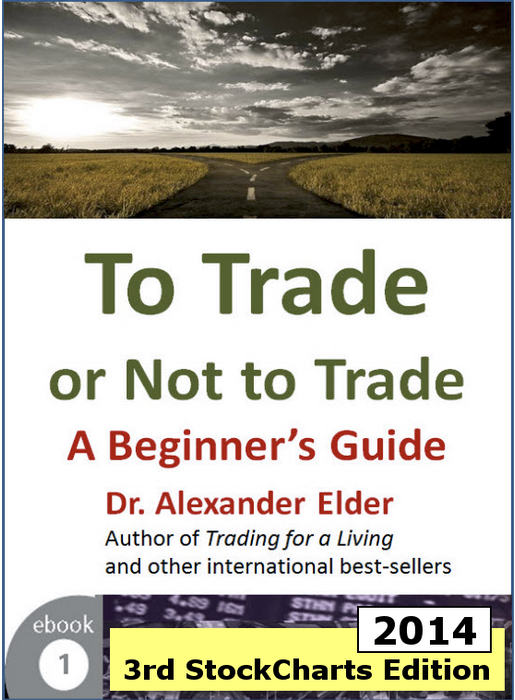 To Trade or Not to Trade: A Beginner's Guide 3rd Expanded Edition (eBook)
by Alexander Elder
(StockCharts.com edition - eBook)

Alexander Elder, the author of two legendary trading books - Trading for a Living and Come Into My Trading Room, has done it again.  With his latest book, Elder lays out the exact steps that beginning traders (and traders that want a solid foundation) should take to be successful in the long run.
This inexpensive electronic book, created exclusively for StockCharts.com users, will tell you everything you need to know in order to maximize your trading potential.
"You can be free. You can live and work anywhere in the world, be independent from the routine, and not answer to anybody. This is the life of a successful trader. Many aspire to it but few succeed. Newcomers often fail to prepare for the markets tough challenges. They keep making serious mistakes that could easily be avoided. This book will help you decide whether trading is for you and teach you its key essential rules." - Alexander Elder
---
TABLE OF CONTENTS
Is it possible to trade for a living?
Can anyone become a successful trader?
MIND - Trading Psychology for Beginners
What you need to succeed
Who should not trade?
A trading aptitude test
Trading psychology resources
METHOD: Trading Rules for Beginners
Two ways to analyze markets
Mind the gap between price and value
Live data and day-trading
Going long, selling short, or spreading
What stocks to trade
Futures, options, and forex
Use multiple timeframes
Discretionary and systematic trading
Placing orders
Profit targets
Protective stops
MONEY MANAGEMENT for Beginners
The three essential numbers for every trade
The 2% Rule
The 6% Rule
Trade sizing - the iron triangle of risk control
What account size is good for beginners?
PRACTICALITIES for Beginners
Paper trading
Record-keeping
What is your edge?
Opening a brokerage account
Continuing education: books, software, etc.
---

Electronic PDF: approx. 67 printed pages